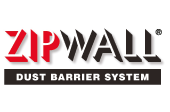 ZipWall Dust Barriers
Whether you're carrying out demolition work, doing some maintenance on an area of a building or creating a temporary room divide, ZipWall dust barrier kits are perfect.
Designed to be quickly assembled in any area ZipWall poles and accessories are the ideal solution for creating a temporary barrier in any area up to 6M high.
Quickly create a temporary doorway that prevents dust and dirt from spreading into other areas of the home or building.
When working a specific room in the house or building it is important to contain dust and dirt to that room whilst maintaining easy access. This is where ZipDoor from ZipWall comes in. Available in both standard and commercial widths ZipDoor provides an easy to fit temporary doorway that reduced dirt and dust from leaving the room where work is being carried out, it can also be reused on various jobs.
ZipWall ZipFast Reusable Panels
Creating a ZipWall Barrier
How to keep it clean with ZipWall
When carrying out any kind of maintenance work or refurbishment dust and debris can be a real...